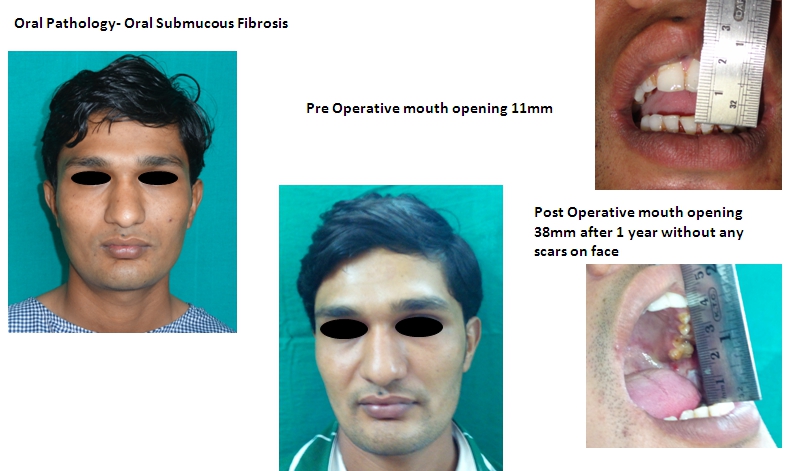 My main compliant was difficulty to open the mouth with burning sensation while eating spicy food. I was suggested many remedies with multiple injections and medications, but none of them provided relief.
I Was referred to Dr Rahul Shah by my dentist in Bhachau (Kutch) and he after meticulous evaluation explained me the cause of my problem recommended a surgery. I was very anxious and scared but after detailed discussion and friendly attitude of Dr Rahul Shah and his team I was motivated to undergo the surgery and regular physiotherapy post surgery. The physiotherapy phase was painful but as I was explained in detail prior to surgery I continued with it for 6 months and am very happy and satisfied with the final result.
Its already been 3 years and I can eat without any discomfort and have an adequate mouth opening. I am no more embarrassed to go out with friends for meals and now always tell people around me not the consume tobacco and gutka and supari.
Regards
Mohan Marwad
My wife Dipali Shah detected with infected radicular cyst on upper maxilla, which was required to be operated earliest to avoid further infection. Dr. Rahul Shah, who is Maxillofacial surgeon operated her in Jupiter hospital (Thane) last month (13-Aug-2016).
Advised Surgery was Maxillary cyst enucleation and planned to be done under G.A., Surgery went really very well and post-surgery pain was pretty bearable with minimal swelling.
We are quite satisfied with Dr. Rahul Shah and will definitely recommend him, for such maxilla surgeries.
Regards
Jimit Shah
A short essay generator could help you choose a the title of your essay. It can be used to create in-text quotations and an original title. It does GradeMiners this by looking at the keywords, then tying them to make a distinct title. The use of this program will make your life easier and save time.